TICKETS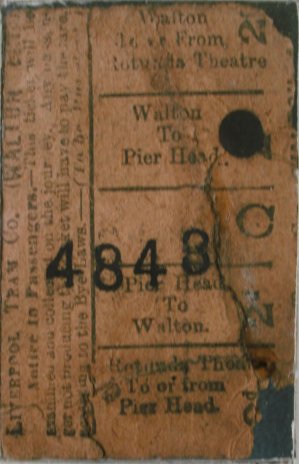 The first trams operated by the Liverpool Tramways Company used metal tokens rather than tickets. These were later replaced with a bell punch ticket system on the 1st of January 1882. Shown here is an example of one of the early punch tickets used prior to the take over of tramways operation by the corporation on the 1st of September 1897. The actual ticket size is 1.5 inches by 2.25 inches and the image was kindly supplied by Iris Hiscox of Julie's Animal Refuge (Warkwork, New Zealand).
Liverpool Corporation Passenger Transport (LCPT) printed its own tickets. In 1939 a new rotary printing press was installed at their Hatton Garden offices. The last punch tickets in regular use were withdrawn in 1951. On the 18th March 1951 new stages were introduced and the bus and tram routes were aligned. The LCPT Hatton Garden ticket printing facility was closed down and the "Ultimate" ticket design was introduced. The "Ultimate" ticket machines and printed tickets were supplied by "Bell Punch Company". This system continued in operation on the buses post 1957 and up until 1987.
For the "last tram week" in 1957 special punch type tickets were printed in Birkenhead by "Auto Tickets". The ticket punching machines were borrowed from London Transport as the LCPT "Barker" machines had been discarded by that time. Following is a selection of the special tickets issued before the Liverpool Corporation tram system closed in 1957. Each had a special design on the reverse side with a picture of an early horse tram and a baby grand car (as in use on the last day).




<! end Table 4 --End of Main Section-->